Audio New Testament: World English Bible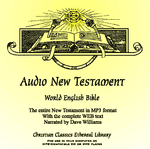 Boring Nothingness
SKU: ccel-webaudio
The Audio New Testament: World English Bible is a narration of the entire New Testament in the World English Bible translation, which is based on the ASV 1901. The result is a translation with modernized language that still retains some of the familiar phrasing of the KJV and ASV.
The narration is by Dave Williams, a Christian layman and chemist who lives in Virginia. You can listen to a sample of the recording.
You can play this CD in your MP3-compatible CD/DVD player or computer. To play it on your computer, you must have software to play MP3 files. Although most computers have MP3-playing software already installed, you can also download free software from Winamp, MusicMatch, or MP3.com. This CD will NOT play on a standard CD player. Portable CD players that are MP3-compatible are widely available for as little as $60 (or even less). Most current DVD players also play MP3 CDs.
The CD is on sale for only $5. Your purchase of this CD helps fund the further development of the Christian Classics Ethereal Library.
Compatibility
This CD-ROM is compatible with Microsoft Windows, Macintosh, Linux, and just about any PC with a CD-ROM drive and a Web browser. To view the included printed text of the World English Bible, Netscape Navigator 6 (or later) or Internet Explorer 5 (or later) is required. This CD-ROM also works on MP3-compatible CD and DVD players.
CCEL Store Details
For questions or additional product information, please contact us.
Don't want to purchase through PayPal?
Would you prefer to order by mail? Use the CCEL Products order form.