MP3 Collection 1: Journals and Biographies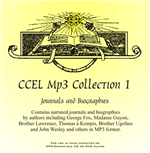 MP3 Audio CD
SKU: ccel-mp3v1
The CCEL MP3 Collection 1 CD contains narration of seven books in MP3 format—over 60 hours of audio on one disc. These MP3 audio files are highly compressed but still very understandable. And with the files on a CD, you don't have to wait for downloads. The audio quality is acceptable for most listeners. It is the same as the MP3 files you can download from the Web, so listen to one of those files before you purchase.
Most of the books are also on the CD as Web pages (with full-text search) so you can look for a passage or print out sections of interest. Ruth Lomas, who narrated most of the books, has several years' experience as a volunteer reader for the blind.
You can play this CD in your MP3-compatible CD player or your computer. To play it on your computer, you must have software to play MP3 files. Most computers have MP3-playing software already installed, but if yours doesn't, you can download free software from Winamp, MusicMatch, or MP3.com. This CD will NOT play on a normal CD player. Hand-held CD players that are MP3-compatible are widely available for under $60, and most current DVD players will play MP3 CDs.
The CD costs $15. Your purchase of this CD helps fund the further development of the Christian Classics Ethereal Library.
Contents of MP3 Collection 1
Anonymous
Fox, George (1624-1691)
Guyon, Madame Jeanne Marie Bouvier de la Mothe (1647-1717)
Lawrence, Brother (Nicholas Herman, c. 1605-1691)
Thomas a Kempis (c. 1380-1471)
Ugolino, Brother
Wesley, John (1703-1791)
CCEL Store Details
For questions or additional product information, please contact us.
Don't want to purchase through PayPal?
Would you prefer to order by mail? Use the CCEL Products order form.