Alexander Whyte
Scottish minister
Page loading...
Summary
Biography
Works by
Works about
Influence
Summary
Alexander Whyte (January 13, 1836 - January 6, 1921) was a Scottish divine. He was born at Kirriemuir in Forfarshire and educated at the University of Aberdeen and at New College, Edinburgh. He entered the ministry of the Free Church of Scotland and after serving as colleague in Free St John's, Glasgow (1866-1870), removed to Edinburgh as colleague and successor to Dr RS Candlish at Free St Georges.

Born
Died
Related topics
Importance
January 13, 1836
January 6, 1921
Bible, Biography, Criticism (interpretation), Free Church of Scotland, Prayer
4
Importance is calculated using the length of this author's Wikipedia entry, as well as the number of works by and about this author.
Top
Biography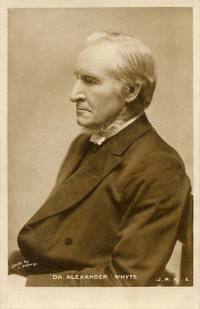 Source: Wikipedia
Born in the small Angus town of Kirriemuir, Whyte was educated at Aberdeen University and the Free Church College in Edinburgh. After four years as assistant minister at Free St. John's, Glasgow (1866-1870), he became colleague and successor to the famous R. S. Candlish at Free St. George's, Edinburgh. His appearance in the pulpit was as arresting and impressive as the preaching itself, which attracted people of every class and kind. A deep appreciation of God's grace to save sinners gave him rare passion and power. A dramatic quality captivated his congregations with its depth of spiritual fervor. "To know Dr. Whyte", said J. M. Barrie, himself a native of Kirriemuir, "was to know what the Covenanters were like in their most splendid hours."
In the month after Dr. Candlish died (1873), Whyte welcomed to Edinburgh two unknown American evangelists, Dwight L. Moody and Ira D. Sankey, and warmly supported both their meetings and the follow-up work. Such was the attendance at his own Tuesday prayer meeting that it had to move from the hall into the church itself. His addresses to men on personal morality were unusually forthright, and some were "shaken to the foundations of their being".
Whyte also had a breadth of culture (he lectured on Dante and corresponded with Newman) not often found in evangelicals of his day. In 1909 he became principal of New College, a post he held until three years before his death. He was moderator of his church's general assembly in 1898, and he wrote much, but it is as a preacher that he will always be remembered.
Top
Works by Alexander Whyte
Filter:
Only CCEL
CCEL + External
Top
Popularity: %
Popularity is calculated by comparing this book's number of views to our most commonly read book.
Popularity is calculated by comparing this book's number of editions to the book with the largest number of editions.
Works about Alexander Whyte
Wikipedia Article
External
Top
Influence of Alexander Whyte
Works published by Alexander Whyte
Works published about Alexander Whyte
Top
There is no information for this graph.