Isaac Watts
English hymn writer
Page loading...
Summary
Biography
Works by
Works about
Influence
Summary
Isaac Watts (17 July 1674 – 25 November 1748) was an English hymnwriter, theologian and logician. A prolific and popular hymnwriter, he was recognised as the "Father of English Hymnody", credited with some 650 hymns. Many of his hymns remain in use today, and have been translated into many languages.

Born
Died
Related topics
Importance
July 17, 1674
Southampton
November 25, 1748
Bible, Childrens songs, Conduct of life, Congregational churches, Early works
4
Importance is calculated using the length of this author's Wikipedia entry, as well as the number of works by and about this author.
Top
Biography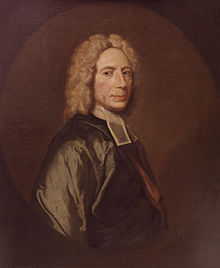 Source: hymntime.com
Watts was born July 17, 1674 at Southampton, England, the eldest of nine children. His father was a Dissenter from the Anglican Church and on at least one occasion was thrown in jail for not following the Church of England. Isaac followed his father's strongly biblical faith. Isaac was a very intelligent child who loved books and learned to read early. He began learning Latin at age four and went on to learn Greek, Hebrew, and French as well. From an early age Isaac had a propensity to rhyming, and often even his conversation was in rhyme.
Because Isaac would not follow the national Church of England, he could not attend the Universities of Cambridge or Oxford. Instead, he attended an academy sponsored by Independent Christians. After completing his formal schooling, Watts spent five years as a tutor. During those years he began to devote himself more diligently than before to the study of the Scriptures. In 1707 he published his first edition of Hymns and Spiritual Songs.
For a few years Watts served as an assistant and then pastor to an Independent congregation in London. A violent and continual fever from which he never recovered forced him to leave the pastorate. Sir Thomas Abney received Watts into his home, and Sir Thomas' family continued to provide a home and serve as Watts' patrons for the next 36 years!
Though naturally quick to resentment and anger, the Lord used Watts' sufferings to produce a gentle, modest, and charitable spirit. Out of his compassion, one-third of his small allowance was given to the poor. Watts' tenderness to children can be seen reflected in his lovely Divine Songs for Children, published in 1715.
Watts' most published book was his Psalms of David, first published in 1719. In his poetic paraphrases of the psalms, Watts adapted the psalms for use by the Church and made David speak "the language of a Christian." Examples of Watts' method can be seen in his paraphrases of Psalm 72 into the hymn "Jesus Shall Reign Wher'er the Sun," Psalm 90 into "O God, Our Help in Ages Past," and Psalm 98 into "Joy to the World."
Benjamin Franklin first published Watts' psalm paraphrases in America in 1729. Franklin was not the only American publisher to take an interest in Watt's hymns. In Boston his hymns were published in 1739. They were well-loved by Americans of the Revolutionary period.
Besides over 600 hymns, Watts published 52 other works, including a book of logic used in the universities, books on grammar, pedagogy, ethics, psychology, astronomy, geography, three volumes of sermons, and 29 treatises on theology. After his death on November 25, 1748, a monument to Watts was erected in Westminster Abbey. His greatest monument, however, are the hymns to his God still used by Christ's church.
Top
Works by Isaac Watts
Filter:
Only CCEL
CCEL + External
Top
Popularity: %
Popularity is calculated by comparing this book's number of views to our most commonly read book.
Popularity is calculated by comparing this book's number of editions to the book with the largest number of editions.
Works about Isaac Watts
Wikipedia Article
External
Top
Influence of Isaac Watts
Works published by Isaac Watts
Works published about Isaac Watts
Top
There is no information for this graph.