William Walker
Baptist song leader and shape note "singing master"
Page loading...
Summary
Biography
Works by
Works about
Influence
Summary
William Walker (May 6, 1809 – September 24, 1875) was an American Baptist song leader, shape note "singing master", and compiler of four shape note tunebooks, most notable of which was The Southern Harmony.

Born
Died
Related topics
Importance
May 6, 1809
September 24, 1875
Spartanburg, South Carolina
Anthems, Hymns (English), Solmization
2
Importance is calculated using the length of this author's Wikipedia entry, as well as the number of works by and about this author.
Top
Biography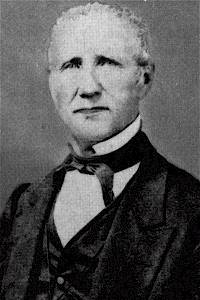 Source: Wikipedia
Walker was born in Martin's Mills (near Cross Keys), South Carolina and grew up near Spartanburg. He married Amy Golightly and died in Spartanburg in 1875.
In 1835, Walker published a tunebook entitled The Southern Harmony, using the four-shape shape note system of notation. In 1846 he came out with The Southern and Western Pocket Harmonist, intended as an appendix to the Southern Harmony. In 1866, he published another tunebook entitled Christian Harmony, in which he changed from four shape to seven shape notation. He incorporated over half of the contents of The Southern Harmony in the Christian Harmony. For the additional three shapes, Walker devised his own system - an inverted key-stone for "do", a quarter-moon for "re", and an isosceles triangle for "si" (or "ti"). Editions of the Christian Harmony are still available printed with Walker's system, as well as in the more common shapes patented by Jesse B. Aiken. The standard four shapes, the Aiken and Walker seven shapes, and other shape note systems may be viewed at What are the Shapes and Why?.
Walker is listed as the composer of many of the tunes in The Southern Harmony. However, he acknowledged that in many cases, he borrowed his tunes, probably from the living tradition of folk music that surrounded him. In working from original tune to finished hymn, Walker borrowed lyrics from established poets such as Charles Wesley (a common practice in his tradition) and added to the tune just a treble (upper) part and a bass, creating three-part harmony.
Top
Works by William Walker
Filter:
Only CCEL
CCEL + External
Top
Popularity: %
Popularity is calculated by comparing this book's number of views to our most commonly read book.
Popularity is calculated by comparing this book's number of editions to the book with the largest number of editions.
Works about William Walker
Wikipedia Article
External
Top
Influence of William Walker
Works published by William Walker
Works published about William Walker
Top
There is no information for this graph.