Henry Van Dyke
American author, educator and clergyman
Page loading...
Summary
Biography
Works by
Works about
Summary
2
Importance is calculated using the length of this author's Wikipedia entry, as well as the number of works by and about this author.
Top
Biography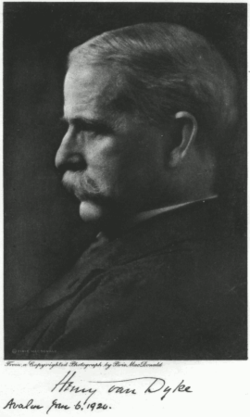 Source: Wikipedia
Van Dyke graduated from Princeton University, 1873, and from Princeton Theological Seminary, 1877 and served as a professor of English literature at Princeton between 1899 and 1923. In 1908-09 Dr. Van Dyke was an American lecturer at the University of Paris. By appointment of President Wilson he became Minister to the Netherlands and Luxembourg in 1913. He was elected to the American Academy of Arts and Letters and received many other honors.
He chaired the committee that wrote the first Presbyterian printed liturgy, The Book of Common Worship of 1906. Among his popular writings are the two Christmas stories The Other Wise Man (1896) and The First Christmas Tree (1897). Various religious themes of his work are also expressed in his poetry, hymns and the essays collected in Little Rivers (1895) and Fisherman's Luck(1899). He wrote the lyrics to the popular hymn, "Joyful, Joyful We Adore Thee" (1907), sung to the tune of Beethoven's "Ode to Joy." He compiled several short stories in The Blue Flower named after a story by Novalis in 1902. He also contributed a chapter to the collaborative novel, The Whole Family(1908).
Top
Works by Henry Van Dyke
Filter:
Only CCEL
CCEL + External
This beloved short novella expands the biblical story of the three Magi with a fictional account of a fourth Magus named Artaban. While his three companions travel west, following the Star of Bethlehem, Artaban stops to aid a dying man and consequently does not make it in time to laud the newborn Christ. For years, he wanders as a pilgrim, seeking Christ and holding on to the precious gift he had intended to give him. Van Dyke's gentle and often lyrical Christmas tale has since inspired several plays, films, music, and adaptations for children's books.
Top
Popularity: %
Popularity is calculated by comparing this book's number of views to our most commonly read book.
Popularity is calculated by comparing this book's number of editions to the book with the largest number of editions.
Works about Henry Van Dyke
Wikipedia Article
External
Top