Socrates (of Constantinople)
Church historian
Page loading...
Summary
Biography
Works by
Works about
Summary
3
Importance is calculated using the length of this author's Wikipedia entry, as well as the number of works by and about this author.
Top
Biography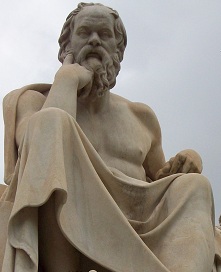 Source: news.charlesayoub.com/index.php
Born at Constantinople, Socrates (also known as (Socrates Scholasticus) was trained in pagan grammar and rhetoric; then he studied law and became an advocate (scholasticus) in the imperial city. The work for which he is noted, however, lay in the field of historical writing. He undertook to supplement Fusebius's work by treating the period 305 to 439.
Each of his seven books is organized around the reign of an emperor. Much of the later part depends upon his own knowledge and oral tradition. The first-known layman to write church history, he dealt with the secular world as well as the religious. The book is particularly valuable for its extensive quotation of sources. Stylistically his work is not as good as Sozomen's, but critically it is better.
He admired Origen despite criticisms surrounding that name, and he stressed the importance of Greek learning for the church. Socrates has been suspected of Novatianism, and he did insist that it and orthodoxy were brothers. In dogmatic matters he preferred to adore the ineffable mysteries of the faith in silence.
Top
Works by Socrates (of Constantinople)
Filter:
Only CCEL
CCEL + External
With over twenty volumes, the Nicene and Post-Nicene Fathers is a momentous achievement. Originally gathered by Philip Schaff, the Nicene and Post-Nicene Fathers is a collection of writings by classical and medieval Christian theologians. The purpose of such a collection is to make their writings readily available. The entire work is divided into two series, each with fourteen volumes. The second series focuses on a variety of important Church Fathers, ranging from the fourth century to the eighth century. This volume contains the work of Sozomenus and Socrates--two fifth century Christian historians. They attempted to continue to the work of Eusebius, namely, providing a history of the Christian church. The Nicene and Post-Nicene Fathers are comprehensive in scope, and provide keen translations of instructive and illuminating texts from some of the great theologians of the Christian church. These spiritually enlightening texts have aided Christians for over a thousand years, and remain instructive and fruitful even today!
Top
Popularity: %
Popularity is calculated by comparing this book's number of views to our most commonly read book.
Popularity is calculated by comparing this book's number of editions to the book with the largest number of editions.
Works about Socrates (of Constantinople)
Wikipedia Article
External
Top