Julian of Norwich
English mystic and first known woman writer in English
Page loading...
Summary
Biography
Quotes
Works by
Works about
Summary
Julian of Norwich (ca. 8 November 1342 – ca. 1416) was an English anchoress who is regarded as one of the most important Christian mystics. She is venerated in the Anglican and Lutheran churches, but has never been canonized, or officially beatified, by the Catholic Church, probably because so little is known of her life aside from her writings, including the exact date of her death. There is also scholarly debate as to whether Julian was a nun in a nearby convent, or even a laywoman.

November 8, 1342
Norwich, Norfolk, England, UK
2
Importance is calculated using the length of this author's Wikipedia entry, as well as the number of works by and about this author.
Top
Biography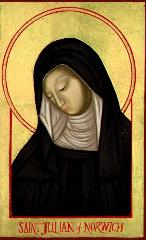 Source: www.umilta.net/julian.html
Julian of Norwich (ca. 1342 - ca. 1416), English mystic Almost nothing is known about Julian, but reliable tradition associates her with St. Julian's church, Norwich, near which she lived a solitary life of prayer and meditation. Her fame rests on her book The Sixteen Revelations of Divine Love, which she wrote in 1393. She claimed to have received fifteen revelations on one day in 1373 and another on the following day. In prolonged states of ecstasy she saw visions of the sufferings of Christ and of the Trinity. She meditated on these visions for twenty years, concentrating on the love of God, which supplies the answer to all life's problems and especially to the evil in the world. Her book contains both the original visions and her meditations on them.
Scholars hold that Julian of Norwich was influenced by a famous book on mystical experience, The Cloud of Unknowing, as well as by Neoplatonic philosophy She summed up her doctrine of God in these words: "And I saw full surely that ere God made us He loved us; which love was never slacked nor ever shall be. And in this love He hath done all His works, and in this love He hath made all things profitable to us, and in this love our life is everlasting."
Top
Quotes by Julian of Norwich
Top
Works by Julian of Norwich
Filter:
Only CCEL
CCEL + External
No description available.
Written in the 14th century, Revelations of Divine Love is a powerful work of English mysticism. After falling deathly ill, St. Julian received sixteen different mystical revelations; in this splendid work, she describes and reflects upon those revelations. Having received these revelations at a time of great pain for herself, as she lay ill, she focuses on the mysteries of Christianity, in particular, the vast love of God and the existence of evil. She describes the "motherhood" of God, depicting how God suffers with his creation as it experiences great and multifaceted evil. Nevertheless, she also emphasizes the need to follow God in order to receive the beautiful vision of God in the afterlife. For her deep and penetrating descriptions of God and love, countless readers have found St. Julian's work uplifting, encouraging, and challenging. Revelations of Divine Love astounds readers, engulfing them in a powerful revelation of God's love.
Top
Popularity: %
Popularity is calculated by comparing this book's number of views to our most commonly read book.
Popularity is calculated by comparing this book's number of editions to the book with the largest number of editions.
Works about Julian of Norwich
Top