George Herbert
Poet and divine
Page loading...
Summary
Biography
Quotes
Works by
Works about
Influence
Summary
George Herbert (3 April 1593 – 1 March 1633) was a Welsh-born English poet, orator and Anglican priest. Being born into an artistic and wealthy family, he received a good education that led to his holding prominent positions at Cambridge University and Parliament. As a student at Trinity College, Cambridge, Herbert excelled in languages and music. He went to college with the intention of becoming a priest, but his scholarship attracted the attention of King James I/VI.

Born
Died
Related topics
Importance
April 3, 1593
Montgomery, Wales
March 1, 1633
Bemerton, Wiltshire, England
Christian poetry (English), Criticism (interpretation), England, History, Literature
3
Importance is calculated using the length of this author's Wikipedia entry, as well as the number of works by and about this author.
Top
Biography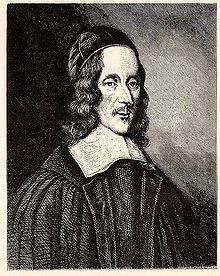 Source: Wikipedia
George Herbert was born to a noble family in Wales; his mother was patron to John Donne who dedicated his 'Holy Sonnets' to her. He was educated at Westminster School and Trinity College, Cambridge, where in 1620 he was elected to the prestigious post of Public Orator.
His first two sonnets were sent to his mother in 1610. On the theme that the love of God is a worthier subject for verse than the love of woman. They foreshadowed his future religious and poetic inclinations, but at first Herbert seemed bent on a secular career, much involved in court life and Member of Parliament for Montgomery in Wales from 1624-5. His only published verse during this period was in Greek and Latin, for formal occasions.
In 1627, however, he resigned as Orator and was ordained a priest, becoming rector at Bemerton in Wiltshire where he was noted for his diligence and humility, traits reflected in his poetry which also expresses the conflict between the religious and worldly life.
When he realized he was dying of consumption, he sent a collection of his poems in manuscript to his friend Nicholas Ferrar to judge whether to burn them or publish them. The result was The Temple, religious poems using common language and rhythms of speech, published to enormous popular acclaim and running to 13 editions by 1680.
Also published after his death, in 1652, was A Priest to the Temple: Or the Country Parson, his Character and Rule of Life homely, prose advice to country clerics.
Top
Quotes by George Herbert
Show all 37 quotes
Top
Works by George Herbert
Filter:
Only CCEL
CCEL + External
Top
Popularity: %
Popularity is calculated by comparing this book's number of views to our most commonly read book.
Popularity is calculated by comparing this book's number of editions to the book with the largest number of editions.
Works about George Herbert
Wikipedia Article
External
Top
Influence of George Herbert
Works published by George Herbert
Works published about George Herbert
Top
There is no information for this graph.