John Follette
Bible teacher and author
Page loading...
Summary
Biography
Works by
Summary
1
Importance is calculated using the length of this author's Wikipedia entry, as well as the number of works by and about this author.
Top
Biography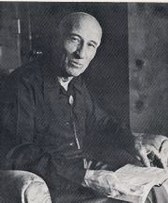 Source: www.highlanderglory.net
Follette was a gifted Bible teacher and author, who had both perspective and spiritual depth in his interpretation of the Word. He was an illuminated spirit in the field of spiritual reality, and had an unusual ability to impart "spirit and life" into those who sat under his ministry.
This gifted Huguenot poet, and deeply spiritual teacher, who lived in New Paltz, New York traced his ancestry back to those unconquerable people whose descendants made history, and who arrived in the area of his birth in the 1660's.
He received the Baptism in the Holy Spirit in 1913 while a student at a Bible School in Rochester, New York, and later became a teacher there until the school closed. He also taught for many years at Southern California Bible College.
During the later years of his life, he was called into a wider field, ministering in conferences and retreats which took him around the world. He passed into his eternal reward in 1966 at the age of 82.
Top
Works by John Follette
Filter:
Only CCEL
CCEL + External
A deeply spiritual man, John Wright Follette had a passion for God. He often expressed this passion through his preaching and poetry. Broken Bread captures some of that passion in its collection of twenty of his sermons and some of his poems. Full of sound scriptural exegesis and practical insight, Follette instructs and entertains, engaging both the reader's heart and mind. His passion for God is infectious, and will quickly spread to any reader of Broken Bread.
Golden Grain contains the brief thoughts from gifted preacher and teacher, John Wright Follette. These little "nuggets" of truth are short phrases or paragraphs that Follette kept ready-at-hand to dispense to anyone in need of aid. Full of practical wisdom, these different nuggets are ideal for meditation, for each one holds in store a new spiritual insight. Indeed, only after much meditation and several reads do many of these encouraging and edifying thoughts show their greatest spiritual insight. Follette arranges some loosely around topics, others not. Either way, Golden Grain makes a wonderful supplement to one's devotions.
Top
Popularity: %
Popularity is calculated by comparing this book's number of views to our most commonly read book.
Popularity is calculated by comparing this book's number of editions to the book with the largest number of editions.