Jakob Boehme
German Lutheran theosophical author
Page loading...
Summary
Biography
Works by
Works about
Influence
Summary
Born
Died
Related topics
Importance
1575
1624
Christian life, Early works, Germany, History, Literature
4
Importance is calculated using the length of this author's Wikipedia entry, as well as the number of works by and about this author.
Top
Biography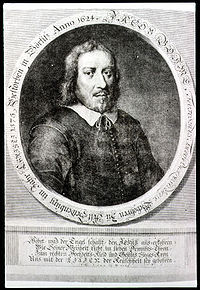 Source: Wikipedia
Boehme, the German mystic, was born in the East German town of Goerlitz in 1575. He had little in the way of an education and made his living as a shoemaker; he married and had four children. His thought drew on interests including Paracelsus, the Kabbala, alchemy and the Hermetic tradition. His first written work, Aurora, went unfinished, but drew to him a small circle of followers. Like Eckhart and others, Boehme's thought drew fire from the church authorities, who silenced Boehme for five years before he continued writing in secrecy. He again raised the cockles of church authorities, and he was banished from his home. He died soon thereafter, in 1624, after returning home from Dresden. His last words spoken, as he was surrounded by his family, were reported to be, "Now I go hence into Paradise." His thought has since influenced major figures in philosophy, especially German Romantics such as Hegel, Baader, and Schelling. Indirectly, his influence can be traced to the work of Schopenhauer, Nietzsche, Hartmann, Bergson, and Heidegger. Further, Paul Tillich and Martin Buber drew heavily from his work -- as did the psychologist, Carl Jung, who made numerous references to Boehme in his writings.
Top
Works by Jakob Boehme
Filter:
Only CCEL
CCEL + External
Top
Popularity: %
Popularity is calculated by comparing this book's number of views to our most commonly read book.
Popularity is calculated by comparing this book's number of editions to the book with the largest number of editions.
Works about Jakob Boehme
Wikipedia Article
External
Top
Influence of Jakob Boehme
Works published by Jakob Boehme
Works published about Jakob Boehme
Top
There is no information for this graph.