The Venerable Bede
Biblical scholar and 'Father of English History
Page loading...
Summary
Biography
Works by
Works about
Influence
Summary
Bede, also referred to as Saint Bede or the Venerable Bede, was an English monk at the Northumbrian monastery of Saint Peter at Monkwearmouth and of its companion monastery, Saint Paul's, in modern Jarrow, both in the Kingdom of Northumbria. Bede's monastery had access to a superb library which included works by Eusebius and Orosius among many others.

Born
Died
Related topics
Importance
Biography, Christian saints, Church history, Criticism (interpretation), England
5
Importance is calculated using the length of this author's Wikipedia entry, as well as the number of works by and about this author.
Top
Biography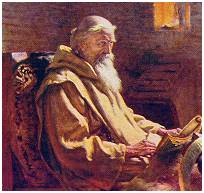 Source: wikipedia
The Venerable Bede (673-735) Within the walls of the imposing Norman Cathedral of Durham lies the simple tomb of a Christian monk who has earned the title as "Father of English History."
Bede was born at Tyne, in County Durham, and was taken as a child of seven to the monastery of Wearmouth. Shortly afterwards he was moved to become one of the first members of the monastic community at Jarrow. Here, he was ordained a deacon when he was 19 and a priest when he was 30; and here he spent the rest of his life. He never traveled outside of this area but yet, became one of the most learned men of Europe.
The scholarship and culture of Italy had been brought to Britain where it was transported to Jarrow. Here it was combined with the simpler traditions, devotions and evangelism of the Celtic church. In this setting Bede learned the love of scholarship, personal devotion and discipline . He mastered Latin, Greek and Hebrew and had a good knowledge of the classical scholars and early church fathers.
Bede's writings cover a broad spectrum including natural history, poetry, Biblical translation and exposition of the scriptures. His earliest Biblical commentary was probably that on the book of the Revelation. He is credited with writing three known Latin hymns.
He is remembered chiefly for his "Ecclesiastical History of the English People." This five volume work records events in Britain from the raids by Julius Caesar in 55-54 BC to the arrival of the first missionary from Rome, Saint Augustine in 597. Bede's writings are considered the best summary of this period of history ever prepared. Some have called it "the finest historical work of the early Middle Ages."
Bede's motive for recording history reminds us of his deepest desires. He clearly states his purpose in his writings when he says, "For if history records good things of good men, the thoughtful hearer is encouraged to imitate what is good; or if it records evil of wicked men, the good, religious reader or listener is encouraged to avoid all that is sinful and perverse, and to follow what he knows to be good and pleasing to God."
Top
Works by The Venerable Bede
Filter:
Only CCEL
CCEL + External
Top
Popularity: %
Popularity is calculated by comparing this book's number of views to our most commonly read book.
Popularity is calculated by comparing this book's number of editions to the book with the largest number of editions.
Works about The Venerable Bede
Wikipedia Article
External
Top
Influence of The Venerable Bede
Works published by The Venerable Bede
Works published about The Venerable Bede
Top
There is no information for this graph.